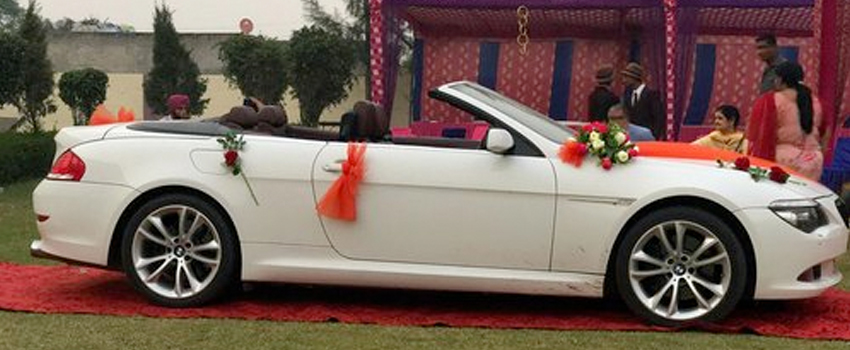 Make Your D-Day Memorable Event By Hiring Wedding Car Rental Services!
Are you thinking about your own wedding plans?
Want to go for a wedding car hire service?
Want to book one of the best vintage wedding cars for your big day?
Remember to bring your wheels! Both the three-layer cake that couples enjoy on their wedding day and wedding cars are popular. Because of this, you shouldn't give the job or put it off until the very last moment.
Surely you wouldn't want to arrive at your ideal wedding in a Ford Pinto?
Which luxury wedding car is ideal for you?
On your wedding day, ride in style— after all, the wedding is every bride's dream day!
Well, here are some quick tips on picking the ideal wedding luxury vehicles. This is a broad instruction that also applies to other people's weddings. Don't forget to share in order to assist!
Start Your Search Early
The preparation process should always begin well in advance of the event, whether you are purchasing a car for yourself or selecting one for it. Search online for wedding transportation rentals in your town before setting off on foot. Your chances of finding some good wheels increase with the length of time you spend looking for a car.
To prevent any scheduling problems, try to reserve a car at least a month in advance. There'll be plenty of ads, but to be certain you're renting a car that complies with the standard regulations, just focus on the ones that have legitimate reviews and testimonies.
During your hunt, social networking sites, friends, family, and networks can be quite helpful. Identify all prospective wedding car providers in your area, then take the best 5. Make a call to schedule a visit so that you can examine the car for yourself.
It's Time To Test Ride
It's time for you to visit the shop and look over the wedding car after you've narrowed down your options. Look for any indications of negligence on the vehicle information report. On your wedding day, the last thing you would want is a car breakdown or an unpleasant interior.
You should take some measures while the car is being inspected. If you're a bride, be sure the car you choose has space for both the groom and your bridal dress. Even though exotic sports cars are fantastic, they aren't really wedding-friendly.
Having enough space for brides and grooms is a must for all classic wedding cars.
Your Theme
Have you thought about some theme for your wedding? Ensure that the wedding car you select fits your concept. For instance, vintage cars complement a retro-themed wedding, and ATVs go in with beach weddings. Depending on the situation, the majority of car rental providers will present you with various possibilities. Pick the option that best meets your needs.
Your Personality, Your Car
Go for Bentley if you enjoy its eccentricity and believe it fits your personal style. More often than we'd like to confess, our cars convey our sense of style, and your wedding is the ideal occasion to do so. Hire your dream wedding car now!
Stay Local
When seeking a bridal car, you ought to start with nearby businesses. The drivers are natives; therefore, they would be familiar with every detail of the region. The drivers are privy to stunning photo opportunities, danger zones, and the quickest routes between the wedding and the reception.
Since fuel won't be an issue as much, hiring a wedding car from a local company will also be less expensive. If all the local vendors are already booked on your big day or if you already have your mind made up on a particular car brand, you should only consider an out-of-state car rental.
Explore the Small Print
Ask inquiries and ensure you have read the rental agreement. The right moment to inquire about additional services like a chauffeur, champagne, décor, and rental time is right now. Early knowledge of the situation will give you ample time to find a driver or adorn the car.
It's high time you found a committed travelling companion now and have a wedding car reserved, fueled, and ready! Stop thinking about it. Get one now by going outside!
Best Wedding Car Rental + Professional Chauffeur Driven Car = PERFECT DREAM WEDDING!
It's crucial to have all the necessary information and be aware of your possibilities if you're looking for a wedding chauffeur. Here at SPM Hire, we have a fleet of luxury cars to make your dream wedding from ordinary to EXTRA-ordinary in no time.
Your transportation must be at the top of the priority list when planning your wedding day because it is undoubtedly the most crucial element in ensuring that everything goes as planned. To go down the aisle on time, it is essential to get to the church or wedding venue early.
Everyone wants to enjoy their marriage with first-rate amenities because it brings about a new experience in life. Everyone pays attention to the wedding car at weddings since it seems significant throughout the entire event, as people enjoy opulent functions and go all out on each individual thing. For the convenience of our clients, SPM Hire offers a large fleet of cars.
We have a large selection of luxurious vehicles at our disposal, including Mercedes Benz, Bentley, Range Rover, Rolls Royce Phantom, limousines, and many more. We also consider our clients' individual budgets and are happy to provide the assistance they require within that pre-determined budget.
These opulent classic vintage wedding vehicles, which are used to transport the bride to her new home, add a particular touch to the entire event.
Since people can choose a specific model and colour based on their own likes and tastes, a wide variety of cars in various colours are available to them. These chic vehicles serve as the welcome conveyances and are assisted by additional wedding conveyances, such as wedding buses or VW campervans.