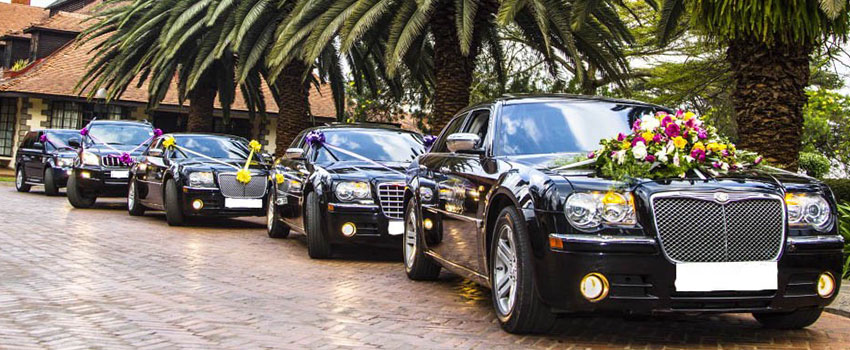 Say 'I Do' to the Perfect Wedding Car Rental
The day a couple exchanges their wedding vows is one of the most significant and memorable of their lives together. Everything, from the dress to the venue to the food to the music, must be just right. Wedding car rental is one of the most pivotal aspects that can make or break the big day. The luxury and class of the wedding can be enhanced by the choice of transportation the bride and groom and their guests enjoy. From classic Rolls Royce to sleek modern vehicles, this post discusses the best wedding car rental options.
What is Wedding Car Rental?
A wedding car service is one that provides chauffeured transportation for the happy couple on their big day. The rental service is complete with a chauffeur to take the happy couple to and from the wedding and party in style and comfort. Transportation for the wedding party and guests, along with optional extras like champagne, red carpet treatment, and adornments, may be provided by some wedding car rental services.
Vintage Wedding Cars:
For couples who want a classic and timeless touch on their big day, vintage wedding cars are a popular choice. The Rolls Royce Silver Cloud is a classic Rolls Royce model that exudes elegance and sophistication. The couple who wants to make an entrance in style and turn heads should rent this car. The classic Rolls Royce is another well-liked classic car due to its opulent and enduring style. The special memories of the day can be enhanced by the vintage car's one-of-a-kind and romantic vibe.
Modern Wedding Cars:
For couples who want a more contemporary look and feel, modern wedding cars are a great option. The Rolls Royce Phantom is a cutting-edge vehicle that excels in comfort, luxury, and visual appeal. Couples who want to make a big entrance at their wedding should rent this car. The Bentley Continental GT, Mercedes-Benz S-Class, and BMW 7 Series are also great options for modern wedding transportation. The contemporary elegance of these automobiles is a great complement to a contemporary wedding.
Chauffeur Driven Wedding Car:
Any wedding car service that is credible will provide a professional chauffeur. The job of the chauffeur is to ensure the timely and safe arrival of the newlyweds at their destination. The services of a professional chauffeur also elevate the class and refinement of the wedding day. The chauffeur will always look and act their best in a stylish and sophisticated uniform.
Wedding Car Hire London:
The city of London is home to a plethora of wedding car rental services, so if you're planning a nuptial ceremony there, you'll be able to find the perfect vehicle. There is a wide selection of classic and modern wedding cars, including Rolls Royce and limousines, in London. Hiring wedding cars in London is a great way to make your special day even more elegant and memorable.
Hiring The Perfect Wedding Car Rental
With so many possibilities, picking the best car for your wedding day can feel like an uphill task. Your wedding's style and theme, as well as your own tastes and preferences, are all crucial factors. While some lovebirds might feel more at ease in a classic automobile, others might prefer something more up to date.
Transportation is an integral part of the wedding day and must go off without a hitch. A reputable wedding car service will provide a clean, well-maintained vehicle driven by a dependable chauffeur. They will also deal with any hiccups along the way, like traffic or delays, to make sure the bride and groom get where they are going on time.
A wedding day is a once-in-a-lifetime event that calls for meticulous preparation and meticulous execution. Hiring a professional wedding car rental service can take care of the transportation so that you do not have to worry about it on your special day. The couple can then relax and spend time with their loved ones.
Wedding Cars for Hire:
There are many wedding cars available for hire, from vintage cars to modern vehicles. Modern Mercedes-Benz vehicles and classic Rolls Royce and Bentleys are also very popular choices. The happy couple can select a car that reflects their unique sense of style and complements their wedding's colour scheme and design scheme. For the sake of convenience and peace of mind on the big day, it's best to reserve the wedding car service in advance.
Make Memorable Memories with Wedding Car Rental Services
Choosing the perfect wedding car rental is an important decision that can add an extra touch of luxury and elegance to a couple's special day. Whether it's a vintage Rolls Royce or a modern Bentley, the perfect vehicle can make all the difference. Hiring a professional chauffeur will guarantee that the bride and groom get where they're going on time and that everything goes off without a hitch. The right wedding car rental service can help couples create lifelong memories.
You can choose from classic wedding cars or cutting-edge luxury cars like the Rolls Royce Phantom when searching for a wedding car rental service in London. It is important to plan ahead of time and hire a professional service to ensure that your wedding day goes off without a hitch.
So, say "I do" to the perfect wedding car rental and make your big day one to remember.
Where to Get Wedding Car Rental Services in London?
SPM Hire is a London, United Kingdom–based business offering chauffeured luxury vehicle rental services for special occasions like weddings. SPM Hire is a great option for renting a wedding car because of the following reasons—
Competitive pricing
Customizable packages
Excellent customer service
Experienced drivers
Wide range of cars
Overall, if you are looking for a reliable and professional luxury car rental service for your wedding, SPM Hire might be a good choice for you to consider.