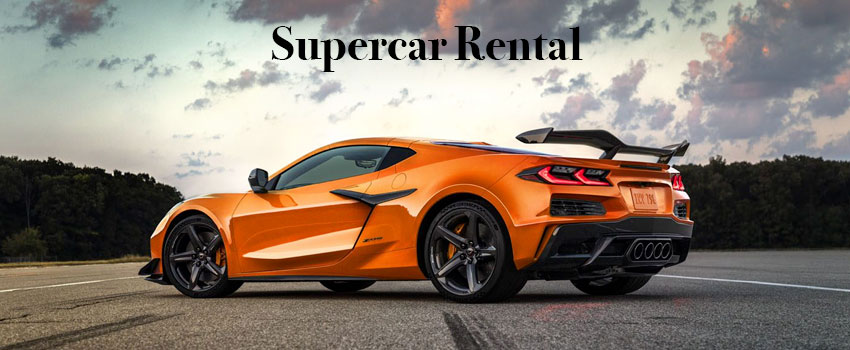 Supercar Rental— Why Supercars are the Superstars of the Car Rental Industry?
The adrenaline rush, unparalleled speed, unbeatable elegance, and unique amenities can only be felt once you've buckled up in a supercar. Regardless of your chosen destination, consider using a supercar rental service to have a limitless amount of fun.
Supercar Rental— A Way to Fulfil Your Desire
Riding a Lamborghini around the streets of London adds to the city's allure. Furthermore, automobile rental services provide you with the incredible opportunity to see the sights in a supercar. What could be better than a trip to remember? The ability to feel the aggressive wheels has a variety of advantages.
Yes, you may enjoy the power and comfort of these costly animals by renting them. Seeing the greatest of London and its environs in a Ferrari is just as it sounds. This can be a great opportunity for globetrotters with a love for vehicles to experience the journey memorably and uniquely.
Advantages of Hiring Supercar Rental Services
There are numerous advantages to renting a supercar, so let us explore them more.
No Worries About the EXPENSIVE Maintenance, Repairing or Servicing
Isn't it fantastic? It's no surprise that you'll be able to enjoy a supercar ride without having to worry about maintenance. Supercar rental is an easy way to get behind the wheel of a true working beast. You won't have any terrible experiences or breakdowns at the last minute this way. Such situations will be handled expertly by the supercar rental service provider.
Car breakdowns in the middle of nowhere add to the stress. Luckily, even when driving a supercar, you don't have to worry about the problems that come with it. The bottom line is that you won't have to worry about repairing or pricey maintenance charges. The automotive problems will be handled by the providers.
Their top priority is to provide well-maintained autos. Simply fasten your seatbelts and enjoy the journey to experience the city's splendour.
Your Love For Supercars Will Never Stop
Even if you've been driving to work every day, you can no longer appreciate it. Fortunately, you can begin falling in love again without breaking the bank. The long-forgotten desire can now be rekindled with supercar rental.
Besides London being one of the most beautiful, vibrant places in the world with breath-taking views when you are behind the wheel of a Ferrari, you can go anywhere. Only a supercar can make you faster and more comfortable. Driving down a country road in the ultimate comfort of the luxurious cabin is an unforgettable experience.
You Can Feel the Adrenaline Rush
This is something that any car enthusiast would understand. Driving a Lamborghini and appreciating the speed may be a thrilling experience. You can drive the car whatever you want once you have the functions in your hands. The excursion is made much more enjoyable by the presence of supercars.
Driving a sporty Porsche while taking in the gorgeous scenery of Europe is an unforgettable experience. There are no words to convey how incredible this is. The pure joy that one might have while driving these strong speedsters down magnificent routes can be imprinted on one's heart.
You Get Endless Options
Consider the occasion when you are purchasing a supercar. What are the possible outcomes? Given the cost ranges of these cars, you would be bound between some cars! However, that's not the situation with a luxury rental car service.
You have the opportunity to choose numerous models and styles because of the low rental rates. In some circumstances, you can also choose the colour in addition to the model. As a result, even if you pay less, you can have the supercar of your dreams.
Supercars are undoubtedly more appealing than ordinary automobiles! All of your fantasies can come true on your vacation if you hire these premium cars. You might select something that appeals to your car enthusiast's side.
You Can Ride in a Supercar for a Reasonable Price
Supercars are really costly! Even someone with the most basic understanding of automobiles is aware of the pricing range. But there's a catch! Consider hiring a supercar in London to get a sense of the city's grandeur. Even if the cost is prohibitive, you can still drive by paying nominal fees.
For car enthusiasts, this is a dream come true. Despite its low cost, you may charter a supercar and have a ride around town. Every part of your trip should be unforgettable, and allegedly hiring supercars adds to that. One of the most likely reasons why hiring a supercar is a realistic option is its affordability.
Driving in a supercar is a wonderful experience, so rent your favourite supercar for a reasonable fee and enjoy your trip.
Travel Across the Vibrant and Beautiful London in A Powerful Supercar
Supercars are packed with unique attributes that make them nearly tough to get. You can now effortlessly drive on the roads with power thanks to the supercar rental service. Enjoy the best of London while riding the sporty supercar to realise both desires at the same time.
Snap pictures, go to the site's remembrance, and ride in a stunningly powerful supercar. Everything on your dream list will almost certainly be checked with the rental services.
SPM Hire Offers Best Supercar Rental Services at Affordable Prices
Looking for something special? Hire a supercar today and experience days of your dream!
At SPM Hire, we are the prestige car hire specialists. We offer luxury cars hire services to deliver the best supercar experience you can ever get. Whether you want to drive the car yourself or want super car hire service with a chauffeur-driven facility, we have many options and a car collection to suit your unique needs.
From pick-up delivery and collection service to price match one's sports car hire requirement, we go all the way through to help our clients find the perfect match for every drive!
We Have Wide Range of Supercar Rental Collections
Whether you are looking for a Ferrari hire or a Lamborghini hire company, you can trust SPM Hire.
Make a memorable impression wherever you go by hiring a Ferrari Lamborghini, Audi r8, Range Rover or any other supercar of your dreams!
Renting a supercar or driving supercars to fulfil your dream— everything made easy, convenient, affordable and enjoyable!